The prevalence of mental and behavioral health conditions has been on the rise in recent decades, further aggravated by the pandemic in the last two years. Social isolation, grief from the loss of loved ones, fear of contracting the virus, and financial worries were all major stress factors that increasingly affected the mental wellbeing of the population, and the resulting statistics are startling: the average share of adults with symptoms of anxiety or depressive disorders jumped from 1 in 10 pre-pandemic levels to 4 in 10 in early 2021. While the pandemic has certainly triggered a rise in mental and behavioral health conditions, it has also illuminated a rising crisis that has been perpetually stigmatized and buried for decades, bringing it to the forefront of conversation, along with a wave of new innovations aiming to alleviate the crisis.
Despite the growing prevalence, roughly half of those with mental health needs go untreated, a complex trend largely driven by inadequate insurance coverage, stigmatization, and lack of access. While Covid-19 initially exacerbated difficulties in access, the swift public emergency declarations that led to the easing of regulations proved a catalyzer for remote models that had previously struggled to gain adoption. However, it is unclear how long these accommodations will continue, particularly those with potential pitfalls, such as the ability to prescribe stimulants to new patients without at least one in-person visit, which has led to certain companies coming under scrutiny in recent months.
The vast array of stakeholders in behavioral and mental healthcare has resulted in a wide and extensive range of solutions, as can be seen in HGP's two market maps: provider technology which spans care delivery, care documentation, and care evaluation, and consumer and member technology which includes both provider-guided and self-guided solutions. Rising demand for digital health solutions, increased awareness, and loosened regulations have led to a flurry of deal activity across all mental and behavioral health sectors, with average quarterly investment volume increasing 60% from pre-COVID to post-COVID, and average quarterly investment value skyrocketing 300%. Driving these trends are rising valuations, maturing companies raising larger rounds, and eager investors looking to deploy capital into the booming sector.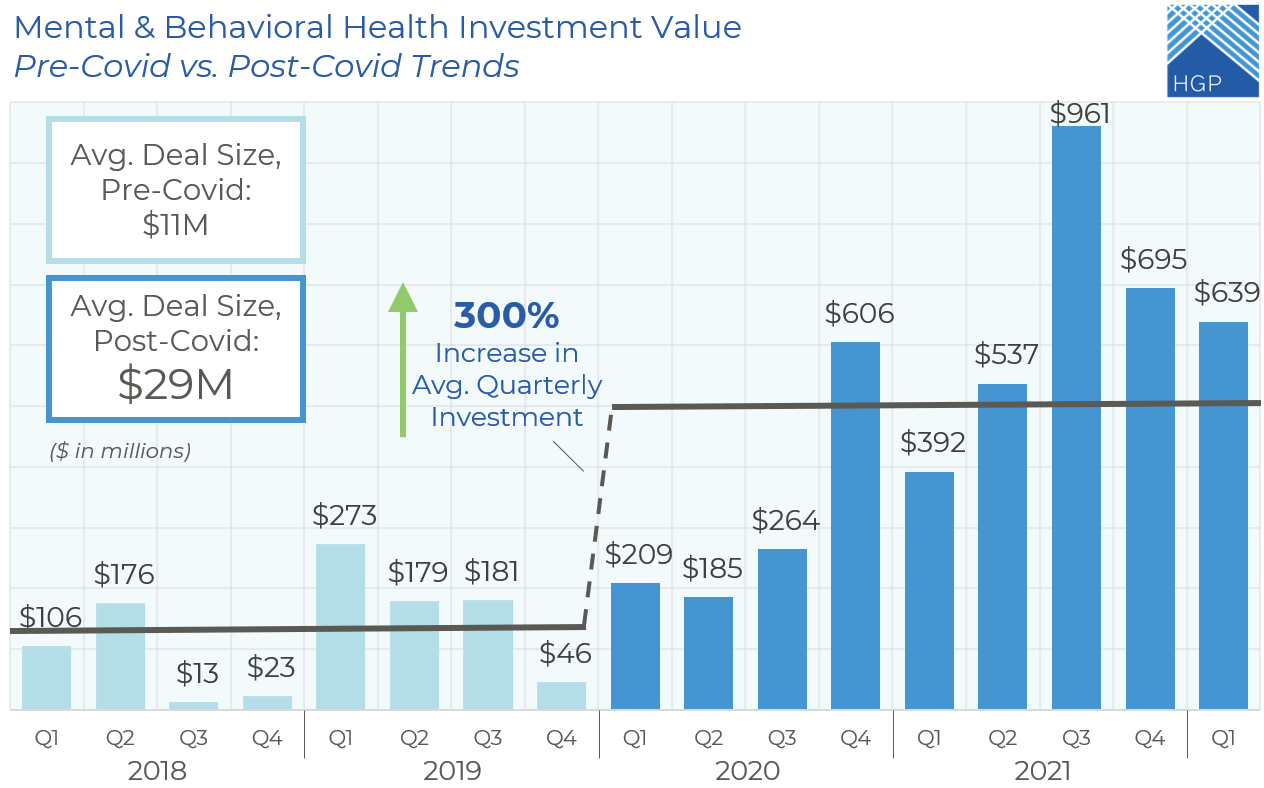 While the market for mental and behavioral health is large and ever-growing, the ultimate question is whether there is enough market share to go around to support the $4.6 billion invested since 2020.  Already, there are signs that the market is cracking.  Customer acquisition costs are rising as companies fight for members, access to clinicians is exacerbated by supply constraints, pricing is under pressure due to intense competition, and in many end-markets sales cycles are prolonging.  The public market already reflects these challenges – Accolade, Amwell, Lifestance, Talkspace, and Teladoc have seen their stock prices plummet. Part of the disruption experienced by the public companies is due to private-equity-backed companies playing by a different set of rules – the private companies can afford growth at all costs whereas the public comps must demonstrate an ability to operate at scale. 
Due to the growth philosophy, many emerging growth companies operate with sub-scale gross margins and significant operating losses.  Meanwhile, investors are shifting away from growth-at-all-cost models.  Companies funded over the last two years will almost inevitably need to tap investors for more capital, and a key unknown is whether private investors, like their public counterparts, refocus their investment criteria toward stronger operating metrics that make the next round of capital less forgiving than the post-COVID boom.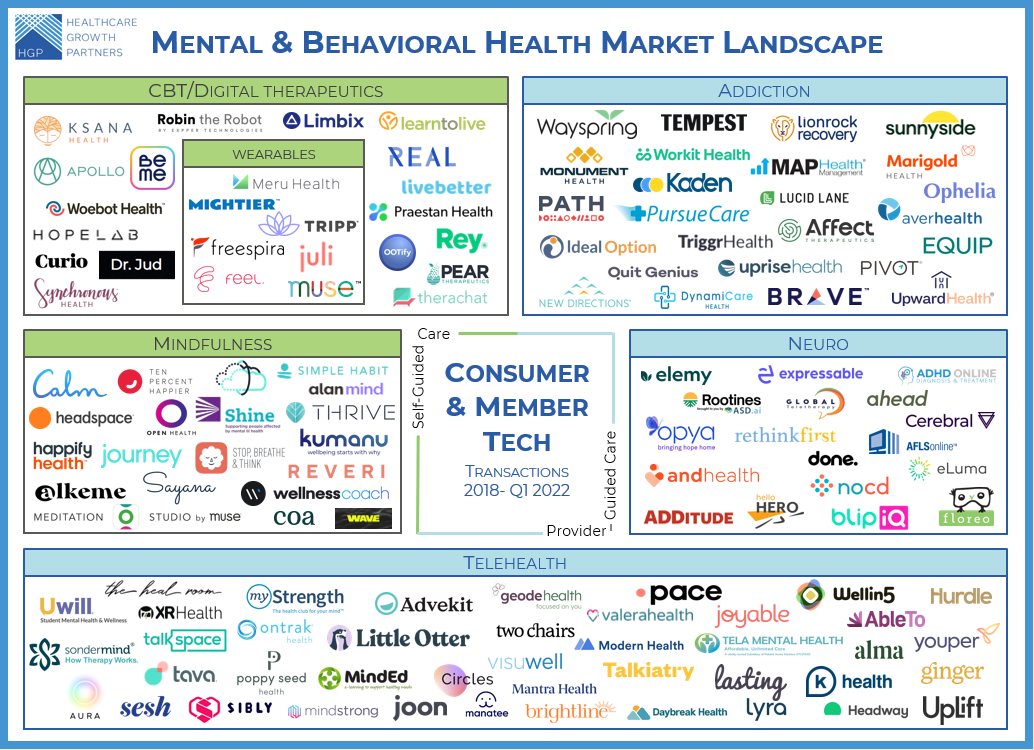 Notable transactions in the consumer and member tech category include:
Pear Therapeutics, software-based medicine provider, made its mark in 2017 as its tool became the first digital therapeutic approved by the FDA with claims to improve clinical outcomes. The Company has since raised a total of $271mm, and ultimately went public in 2021 via a reverse merger. With increased competition, companies in the space are eyeing FDA approval as a key point of differentiation.
Meditation and mindfulness have been recently embraced as effective methods for coping with stress, a trend that was further accelerated with Covid-19 as Americans rushed to download mindfulness apps. While new apps continue to pop up seemingly every day, the Headspace merger with teletherapy provider Ginger.io signals a shift towards comprehensive bundled solutions that better address the full continuum of mental health needs.
Substance abuse disorders were exacerbated by Covid-19, with 1 in 3 Americans reporting an increase in usage during the pandemic. Diminished stigma in the space has attracted investors and led to companies tackling specific disorders such as opioids, alcohol, tobacco, and eating. Companies such as opioid addiction-focused Ophelia, which raised $50mm in 2021 at a post-money of $275mm, are removing barriers for patients seeking treatment.
The mental health crisis was acutely felt amongst children and adolescents, as the pandemic brought changes such as remote learning and a wave of new stressors. Brightline, which offers a digital health solution designed to support kids and teens, has raised $202mm and is valued at $705mm, and is one of the many companies aiming to provide family-oriented solutions.
Cerebral first made headlines as one of the exclusive members of the mental health unicorn company cohort, raising $126mm at a $1.13B valuation in June 2021, and another $300mm at $4.8B valuation, just 6 months after the previous round. However, the company is now facing intense backlash over its prescribing practices.
The telehealth space has seen a surge of new entrants, but giants such as Sondermind, which raised $242mm in 2021 at a $1.64B valuation, and AbleTo, which was acquired by Optum for $470mm in April 2020, continue to dominate the space, but not without feeling the pressure from the new players.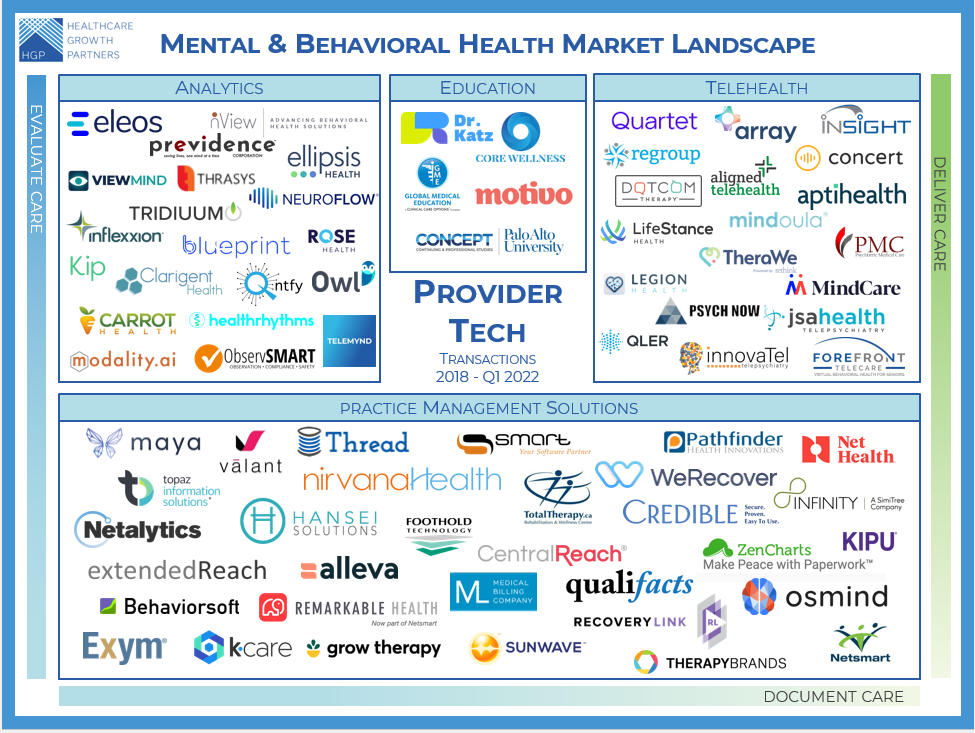 Notable transactions in the provider tech category include:
– LifeStance, a provider of virtual and in-person outpatient mental health care, made its initial splash in May 2020 with its $1.2B buyout, which was quickly followed by its IPO in June 2021. The stock has plummeted since its IPO, ending Q1 2022 ~70% down from it's 52-week high, a reaction that highlights Lifestance is among the public companies feeling pressure from both competitors and investors disappointed with the reported operating losses.
– Among those competitors upping the pressure for public companies is Quartet Health, which is focused on providing an infrastructure and care navigation platform for mental healthcare. Quartet has not only raised significant funds, the latest Series E valuing it at $991mm, but is also making strategic M&A moves, with its acquisition of InnovaTel.
– In an area as complex and dynamic as behavioral health, continuing education is key. Platforms such as Motivo, which has raised early venture rounds, are aiming to provide tools for both aspiring providers and clinical experts, while also helping address the licensed provider shortage. Funding in this sector is early and minimal as compared to other sectors, as few education platform are focused solely on mental and behavioral health.
– Several companies such as Eleos Health, which raised a $20mm Series A in April 2022, and Ellipsis Health, which raised a $26mm Series A in July 2021, are providing novel technology that leverages voice AI and voice analysis that results in actionable clinical insights as well as increased efficiency.
– A cornerstone of the mental and behavioral health tech market is PM/ EMR systems, which offer providers tools that streamline practice management, data capture, and billing. The category has many notable players, including Therapy Brands which was recapitalized by Kohlberg Kravis Roberts in May 2021 at a $1.2B valuation, Netsmart which was recapitalized by GI Partners and TA Associated in December 2018, and Qualifacts and Credible which merged in August 2020.
HGP qualified US-based companies for the market landscapes based on $1mm+ institutional funding or M&A since 2018. Thanks to Andrea Stone from the UT Health School of Biomedical Informatics for her contribution to this research.
---
About Healthcare Growth Partners (HGP)
Healthcare Growth Partners (HGP) is a Houston, TX-based Investment Banking & Strategic Advisory firm exclusively focused on the transformational Health IT market. The firm provides  Sell-Side Advisory, Buy-Side Advisory, Capital Advisory, and Pre-Transaction Growth Strategy services, functioning as the exclusive investment banking advisor to over 100 health IT transactions representing over $2 billion in value since 2007.