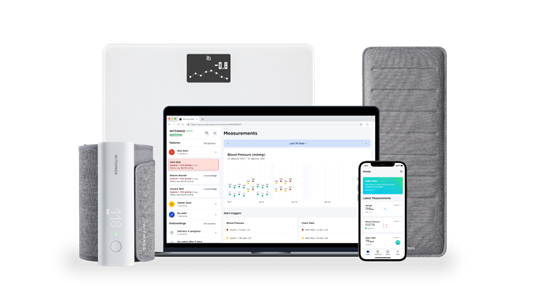 What You Should Know:  
– Withings Health Solutions partners with athenahealth through the company's Marketplace program to simplify the remote patient monitoring experience for both physicians and patients. 
– As part of the athenahealth Marketplace, Withings RPM will now be available to athenahealth's growing network of healthcare providers delivering a patient-focused remote patient monitoring experience.
Integration Benefits for Physicians & Patients
With this integration, athenahealth users will be able to place standard orders for RPM services from the athenahealth electronic health records(EHR)solution, and Withings will ship cellular devices, including the Withings Body Pro scale and Withings BPM Connect Pro blood pressure monitor, directly to the patients' homes. The devices are extremely simple to set up and work straight out of the box without the need for any installation. They connect directly to cellular networks and seamlessly transmit data in a frictionless patient experience straight into their athenahealth patient chart.
To keep clinical workflows unchanged, Withings RPM seamlessly integrates into the athenahealth EHR. Withings RPM leverages a single sign-in option, so providers do not need to create new accounts or credentials. Within its intuitive dashboards, providers can manage every aspect of a remote patient program from onboarding patients and managing multiple patients' charts to setting up review and alerts (a patient case is directly created in athenahealth's EHRif the patient's measurements are out of then ormality range defined by the providers, and it is assigned to the patient's referring provider) to automatically capturing billing functions. It will soon be possible to automatically create ready-to-submit RPM billing charges in the athenahealth EHR to automate the documentation and claim creation process.